Healthia's Annual Integrated Health Conference
Healthia places enormous value on education and research.
Healthia's annual integrated health conference will be held on October 12-13 at QT on the Gold Coast. EncompassED 2019 will provide members of the Healthia group an opportunity to attend a collaborative and collegial professional development event and hear from internationally recognised researchers and clinicians. EncompassED will also provide the opportunity to showcase the depth and experience that exists within the organisation.
Mark Hancock is a Professor of Physiotherapy in the Faculty of Medicine and Health Science, Macquarie University. He has over 20 years of clinical experience as a musculoskeletal physiotherapist. His research focusses on the diagnosis and management of low back pain. He has published over 130 peer reviewed papers and received over $4.5million dollars in funding to support his research. He has published in leading medical journals including New England Journal of Medicine, Lancet and British Medical Journal. Mark is a Journal of Physiotherapy board member and Journal of Orthopaedic and Sports Physical Therapy International editorial board review member.
Julia Treleaven is a Lecturer for the Division of Physiotherapy and a Senior Researcher in the Whiplash and Neck Pain Research Unit at the University of Queensland. She has been researching whiplash and neck pain since 2000 and in 2004 completed her PhD focusing on the necks influence on dizziness, head and eye movement control and postural stability in whiplash injuries. Since then she has continued her research in this area and now is also looking at the role of neck dysfunction in those with concussion due to concomitant whiplash-type injury. She has published over 80 papers in peer reviewed journals and has contributed to several book chapters and is one of the authors of a recent book entitled :Management of neck pain disorders :an evidenced based approach. Julia works part-time as a physiotherapist in a private practice assessing and treating patients such as those with, whiplash, cervicogenic dizziness and post concussion syndrome and been involved as a clinician on several RCTs in whiplash. Julia is also the clinic manager and assessor at the Whiplash Physical Diagnostic Clinic at the University of Queensland.
Simon Bartold is a graduate of Adelaide University where he gained a Bachelor Degree in Science with majors in Physiology and Zoology. He holds postgraduate fellowships in Sports Podiatry with the Australian Academy of Podiatric Sports Medicine, in Sport Sciences with Sports Medicine Australia, and in the Faculty of Podiatric Medicine with the Royal College of Physicians and Surgeons (Glasgow).
Jane Rooney, FACPis a Specialist Sports Physiotherapist–subspecialty knee (as awarded by the Australian College of Physiotherapists in 2009) and Titled Musculoskeletal Physiotherapist (1997). Jane has a passion for education and is the sole director of Physio Educators which provides courses and online masterclasses in conjunction with the Australian Physiotherapy Association, in addition to a post at Melbourne University as an Honorary Clinical Lecturer, Guest Lecturer and post graduate mentor at La Trobe University and a Clinical Associate Professor at Swinburne University, an examiner and facilitator for the Australian College of Physiotherapists and a regular presenter for many APA courses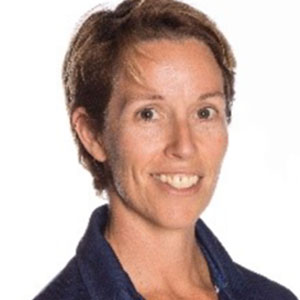 Narelle Sibte owns degrees in Physical Education and Sports Coaching/Administration. She has previously held the position of National Strength and Conditioning Manager at the Lawn Tennis Association and Tennis Australia, as well as the Australian Fed Cup team. Her experience extends to a wide variety of sports, where she has worked with World or Olympic medalists in over 15 sports. She is current providing consultancy services to a range of athletes and organisations in professional sport.
David is an APA Titled Sports & Exercise Physiotherapist who has been working exclusively in elite level cricket for the past 12 years. He is the current Australian Men's Cricket Team Physiotherapist and has extensive knowledge in the monitoring and interpretation of cricket fast bowler workloads, particularly as they apply to the prevention and management of bone stress injuries in the lumbar spine.
Hamish Macauley is an APA Sports and Musculoskeletal Physiotherapist. He is a Director at Elite Rehab and Sports Physiotherapy in Canberra. He is currently the Senior Physiotherapist at the Geelong Cats AFL club. Previously Hamish has worked with the Brumbies Super Rugby Team and The Wallabies. He also has consulted to the AIS and Ricoh Black Rams Rugby Club in Japan.
A communications and performance expert, Amanda Gore Keynote speaker and CEO of The Joy Project, uses latest research in neuroscience, positive psychology, epigenetics, and emotional intelligence, to help business leaders achieve the results they need by getting people engaged in, enthusiastic about and aligned with conference and corporate goals and vision. Amanda will help you to create joyful workplaces that lead to better performance.
With an opening address from Healthia's Chairman, Dr. Glen Richards, networking opportunities and post-conference workshops, EncompassED will provide the Healthia group with an unparalleled professional development experience.
Official opening with Healthia Chairman, Dr. Glen Richards
Keynote presentations
Concurrent streams
Keynote presentations
Conference gala dinner
Keynote presentations
Concurrent streams
Post-conference workshops
Organising Committee
Dr. Kerrie Evans

Adrian Singh

Erin Moss

Melissa Crunkhorn

Madison Knight
Scientific Committee
Dr. Kerrie Evans

Adrian Singh

Dr. Vaughan Nicholson

Dr. Luke Kelly

Viana Vuvan

Amy Chu
The Organising Committee have been working hard on ensuring there will plenty of opportunity to network and enjoy some social activities.
The Conference Gala dinner will be held at QT and will provide a fantastic opportunity to network, catch up with colleagues and enjoy fabulous entertainment. Bring your dancing shoes (sensible ones as there will be a lot of podiatrists in the room) as Blue Poppy will ensure all attendees dance the night away.
Also bring your running shoes – there will be running tours of the Gold Coast on Saturday and Sunday morning at 0630.